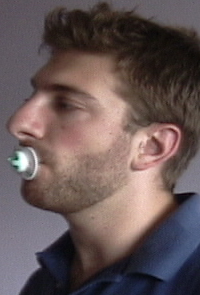 Danielle Steel's The Kiss
LENGTH: 18 min.
STARRING: Victoria Kotnik, Sam Kressler, Eden Mohican
RELEASED: November 2, 2003
GIST: In 2001, Danielle Steel wrote a book called "The Kiss". It was terrible. This book was then released as a book on tape as read by Mr. Joseph Siravo. This made it even more terrible. In this short film, the eight hours of audio has been dismantled, sentence by sentence, word by word and reconstituted into something new. The words are brought to life in order to present a novel and disturbing version of the original story.
WATCH:
BONUS VIDEO
Trailer 1
Trailer 2
Outtakes
BOOK REVIEWS
Want to know more about the original Danielle Steel version of the story? Here are some Amazon reveiw* excerpts:
"The Kiss offers shallow characters and a melodramatic plot."
"It amazes me that Ms. Steel has as many readers as she does..'The Kiss' was a book that failed to hold my attention..I couldnt finish it."
"Isabelle's character got annoying since she was so weak and kept on defending her husband. I wanted to slap her after awhile."
"Why bother reading the book when you know--JUST KNOW--that this insipid, cooing couple is going to end up in others arms."
"A little far-fetched and also a ton of repetitive descriptions. I actually said aloud more than once, 'Ok! I get it already!'"
"Trite one dimensional characters, poorly drawn. A waste of time."
"The Kiss: An Intensely Laborious Waste of Paper"
* If you would like to judge the story for yourself, Amazon.com lists 212 used copies for sale.
NOTES
: Filmed mostly in September 2003. Premiered November 2, 2003. Trailer 1 preceded the award-winning
New Lots
.