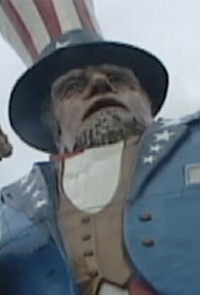 Miscellaneous Clips
Morowati - "War Ensemble"
The heavy metal juggernaut Morowati performs Slayer's "War Ensemble."
April 2007
A Question Of Springer
On an episode of Jerry Springer, an audience member asks a thoughtful question.
May 2006
GTA Vice City: Montage
A brief vignette of clips from a particularly eventful session of Grand Theft Auto Vice City.
February 2006
Vehicle Warranty: In The News
A special guest appearance on the Fox 5 news in Atlanta, GA
March 2009
Bronx Top-To-Bottom Walk
A walk from the northern border of New York City to the Southern tip of the Bronx.
June 2009
Applications: Stickers
The Web 2.0 meme of tagging is brought to life in and around Times Square.
November 2005
Bush In 30 Seconds Ad: "Dissent"
November 2003
Grunt Hour: The Home Game
Andy presents a new feature on UPenn Campus Network smash hit "The Grunt Hour.
February 2003
Radiohead Clip
Clip made for Radiohead competition that solicited clips from fans to show on video screens during the live show. Unknown as to whether the clip was actually used.
April 2003
CRMS Video
Challenged by someone important to make a morale boosting video, this was put together to celebrate the teamwork of those who leveraged their core competencies to add value to key stakeholders. After release of first version, censored version had to be made at the request of the woman featured in the middle of the original.
Summer 2001